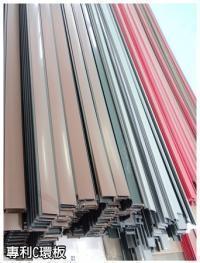 Water Proof
Moisture Proof
Sound Insulation
Seamless Joint
Earthquake Proof
UV Proof
We have a new series of creative products by C pocket plate. We supply a wide gamut of Flooring materials, Wall Panels and Roofing Panels, Multipurpose 3-layer plastic and metal plate, which are available in various sizes, thickness and dimensions. These are manufactured with high quality raw material ensuring superior performance of the plate. We can also produce the products as per the specifications detailed by our clients to suit the varied requirements.
We use C pocket plate products to construct or reconstruct the buildings, such as waterproofing indoor or outdoor wall, ceiling, floors and especially for bathroom. And we provide a series combination, you can DIY as well.

Based on the above characteristics, we can provide a wide range of innovative products including: -

1) The wall, floor, ceiling
Color up to 11 choices. You can design colorful, fantastic ideal home according to personal preferences,.

2) Shower room, SPA

Because of waterproof, leakproof and comfortable material, people are able to relax and remove tireness completely either by shower or bath.

3) Warning facilities
Dazzling palette (not like a brick wall as easily fade) can be used for the fence, giving the alert to ensure safety.

4) Electric rolling doors, windows
Not only quick and easy operation, but also give people security and privacy.

5) Vinyl doors, windows
Owing to the typhoon-resistant design, people is no longer afraid of storms. As long as you are at home, you can still enjoy the quiet life.

6)Comfort house
This can be described as the total combination of the above products. Homeowners enjoy the benefits of each product, leading to a good, relaxed and comfortable feeling.




More



"Group purchase is welcome ! 10% discount is allowed. For huge order quantity, price is negotiable !"
Specifications:
C Pocket plate color : including Black, Red, Yellow, Blue, Green, Grey, White, Brown, Maple, Prairie Gold and Clay

See more complete detail

C Pocket plate various testing reports.
| Function | Base on | Coefficient |
| --- | --- | --- |
| Water Vapour Transmission | ASTM E96 | 0.689 g/m2.hr |
| Surface Resistivity | ASTM D257 | 1.98 x 1015Ω |
| Surface Resistivity | ASTM D257 | 3.55 x 1013Ω |
| Coefficient of Effective Thermal Conductivity | ISO 22007 | 0.588 W/m. K |
| Ultraviolet(UV) | ASTM G154 | 0.905 |
| Noise Barrier | ASTM E413 | STM=30Db |

Specifications
| Product name | Material | Thickness |
| --- | --- | --- |
| RS1 | Aluminum | 0.2mm |
| RS2 | Aluminum | 0.3mm |
| RS3 | Steel | 0.6mm |
| RS4 | Aluminum | 0.6mm |
| RS5 | Steel | 0.4mm |
| RS1-17 | Aluminum | 0.15mm |
| RS1-19 | Aluminum | 0.15mm |
| Flat-21 | Aluminum | 0.15mm |
| Flat-21 | Aluminum | 0.6mm |
| Flat-35 | Aluminum | 0.15mm |
Length: as requirements


We have c pocket plate-RD series,RD2,RD3,RD4,RD5, and more types plate to complete with the best appearance and functional garage door, store door and front door. With the motor and accessories can be operated by automatic or power alone as well..

Specifications
| Product name | Material | Thickness |
| --- | --- | --- |
| RD2 | Aluminum | 0.3mm |
| RD3 | Steel | 0.6mm |
| RD4 | Aluminum | 0.6mm |
| RD5 | Steel | 0.4mm |
| MB1 | Aluminum | 0.2mm |
| MB1-1 | Aluminum | 0.3mm |
Length : as requirements